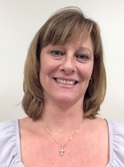 Ruthann Fogleman, LMHC, graduated from York College of Pennsylvania in 1997 with her bachelor's degree in Psychology.  She earned her master's degree in clinical counseling psychology with a specialty in addictions counseling from LaSalle University in Philadelphia, PA in 2001.
She began her professional career working with children and families in their homes as a therapeutic support staff, offering behavioral support for children diagnosed with ADHD and ODD. While earning her master's degree she worked in a residential facility for children with severe behavioral and emotional issues.  After earning her master's degree she became a Licensed Professional Counselor (LPC) in New Jersey and began her career within the child welfare system.  Ruthann provided in home counseling to children in foster care and their foster families.  She eventually became a supervisor and a director of several state contracted programs. She has extensive knowledge of attachment issues, adoption issues, abuse issues, and PTSD.
In 2010, Ruthann moved to Florida and continued to work in the foster care system here in Florida for about a year.  She became a Licensed Mental Health Counselor (LMHC) in Florida and began to work as both an in-home and outpatient counselor at a local community mental health agency.  She has also worked as a supervisor of an intensive in-home state contracted program here in FL.
Ruthann is a caring and supportive therapist who utilizes a variety of approaches, including person-centered, cognitive-behavioral therapy, solution focused therapy, and play therapy.  Each approach will be individualized to meet each person's needs and unique experience.  Ruthann enjoys working with young children and their parents, especially with children with behavioral issues, attachment issues, or adoption issues.  She also likes to work with adolescent females suffering from depression, anxiety, and low self-esteem.
To schedule an appointment with Ruthann, please contact us.