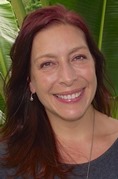 Marie completed her graduate work in clinical social work at The Ohio State University in 1998. She has been independently licensed (LCSW) to practice therapy since 2000 and has over 18 years of clinical experience. Throughout her career, she has worked with children, adolescents and adults in a variety of settings including hospice care, inpatient psychiatric and outpatient therapy. Additionally, Marie studied women's issues, culture/spirituality and social work while on a graduate study abroad program in India. She has lived and worked on the remote Hopi Indian Reservation in Northern Arizona. And while volunteering in Zambia, she developed and facilitated a teacher-training focused on children's grief issues. In 2003, Marie began developing a specialty focus on trauma therapy. She is fully trained in Eye Movement Desensitization and Reprocessing (EMDR), a treatment that is clinically proven to treat symptoms of Post-traumatic Stress Disorder (PTSD).
As an interactive therapist, Marie's treatment approach is to provide support and practical feedback to help clients address current life challenges and long-standing issues. With compassion and understanding, she helps individuals find resolution to a wide range of personal concerns and psychological issues. In particular, she works with clients with past trauma or abuse, anxiety, depression, substance abuse, grief and loss, relationship difficulties, life/work stress as well as those going through life transitions.
With a combination of approaches, Marie draws from a variety of methodologies and techniques to incorporate what is most helpful for each individual client. In a comfortable and supportive atmosphere, she offers a highly personalized approach tailored to each individual client in order to help them achieve the personal growth for which they are striving.
To schedule an appointment with Marie, please contact us.