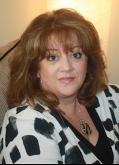 Kelly Plouffe is a Licensed Marriage and Family Therapist, a Certified Clinical Trauma Professional and trained in Clinical Hypnosis, Rapid Resolution Therapy and Rapid Trauma Resolution.  She is a sexual abuse and trauma expert and has worked in the field of child abuse for the last 22 years.  Kelly has also served as an expert witness and trainer on topics ranging from trauma, child abuse, child sexual abuse as well as attachment and bonding.   She is honored to be a clinical member of the Pasco County Sheriff's Office Child Abduction and Response Team representing the mental health component of the team. Kelly is also a Qualified Supervisor for those seeking licensure supervision in the State of Florida.
Kelly's passion is working with children and adults to eliminate the negative effects of past events on physical and emotional health. She utilizes methods that have been researched to be the most effective and long lasting, including Clinical Hypnosis, Rapid Resolution Therapy.  Hypnosis is a merely a heightened state of awareness coupled with relaxation and concentration. It is a natural state of calm, when the mind is relaxed and focused allowing a deeper experience of healing to take place between the mind and the body.  Rapid Resolution Therapy can address a vast range of problems including anxiety, depression, guilt, grief, phobias (fears), negative habits, and post-traumatic stress. This therapy is very effective for trauma victims.
Hypnosis is only one of many methods used to guide adults, adolescents, couples and families to dramatic and lasting improvements in the way they look at their thoughts and feelings. By examining these thoughts and feelings, one can quickly get to the core of cognitive distortions and blockages. Kelly works with individuals to design a plan together that will best meet the needs and goals identified.
Kelly does not accept insurance at this time; however you will be provided with a receipt to submit to your insurance carrier for reimbursement.
To schedule an appointment with Kelly, please contact us.